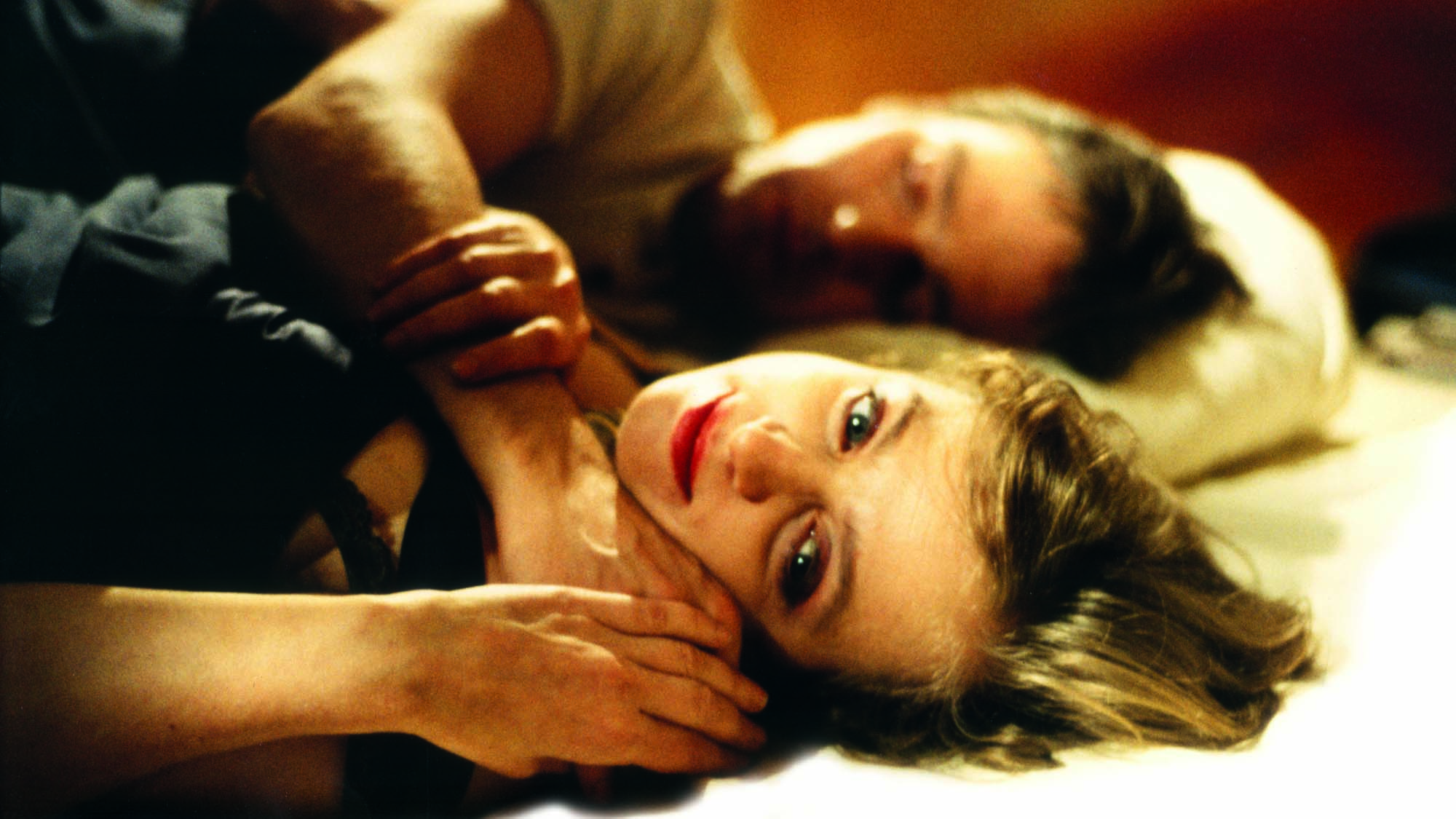 Katharina Thalbach as "Frau Mischke"
Content
"Black and brown shoes are usually a turn-off, white shoes are interesting, but red or even glittery shoes would be ideal."
Paul loves shoes -and feet. He is distribution-director in a fine foods shop. During the lunch-hours, he dials numbers on the telephone with eyes shut. When a female voice answers, he kindly asks: Would you mind telling me what shoes you're wearing ...? To his pity in most cases the line is cut.
Mrs. Mischke, his neighbour, would give him both: shoes and heart, but Paul is not in love with her. Leyla, a young and beuatiful turkish woman hasn't left her apartement for 5 months, since her friend Nasrin died in a rassist assault. She doesn't want to know about the world outside any more.
One day - by incident - Paul catches her number and to Layla's own astonishment she does not hang up ...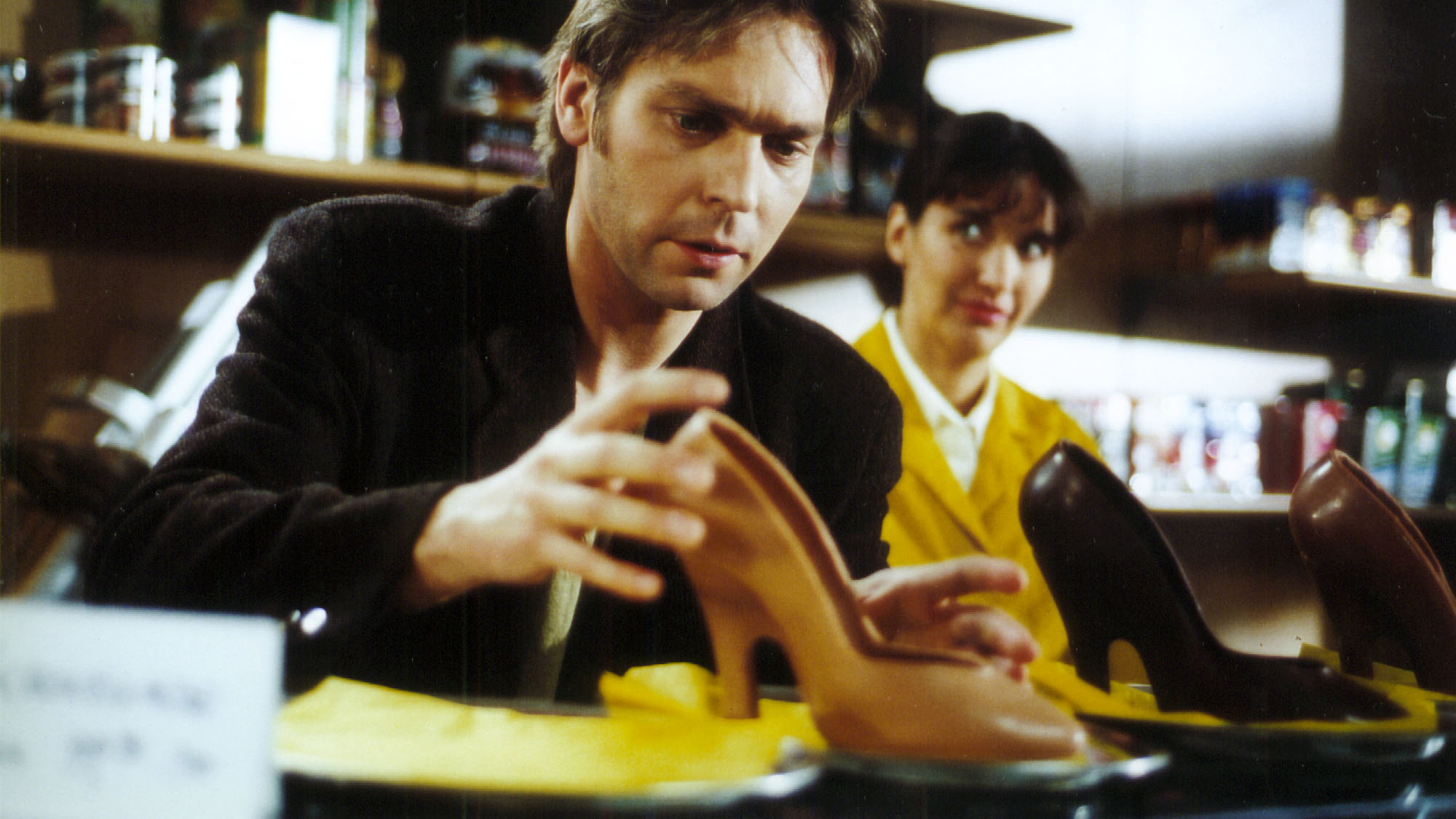 Paul (Jacques Breuer), the merchant of fine foods has a strange passion
Awards
Silver Award Worldfest Houston '97 (Houston Press)
Best Foreign Film Award, Long Island International Festival
Nomination 1997 for Adolf-Grimme Preis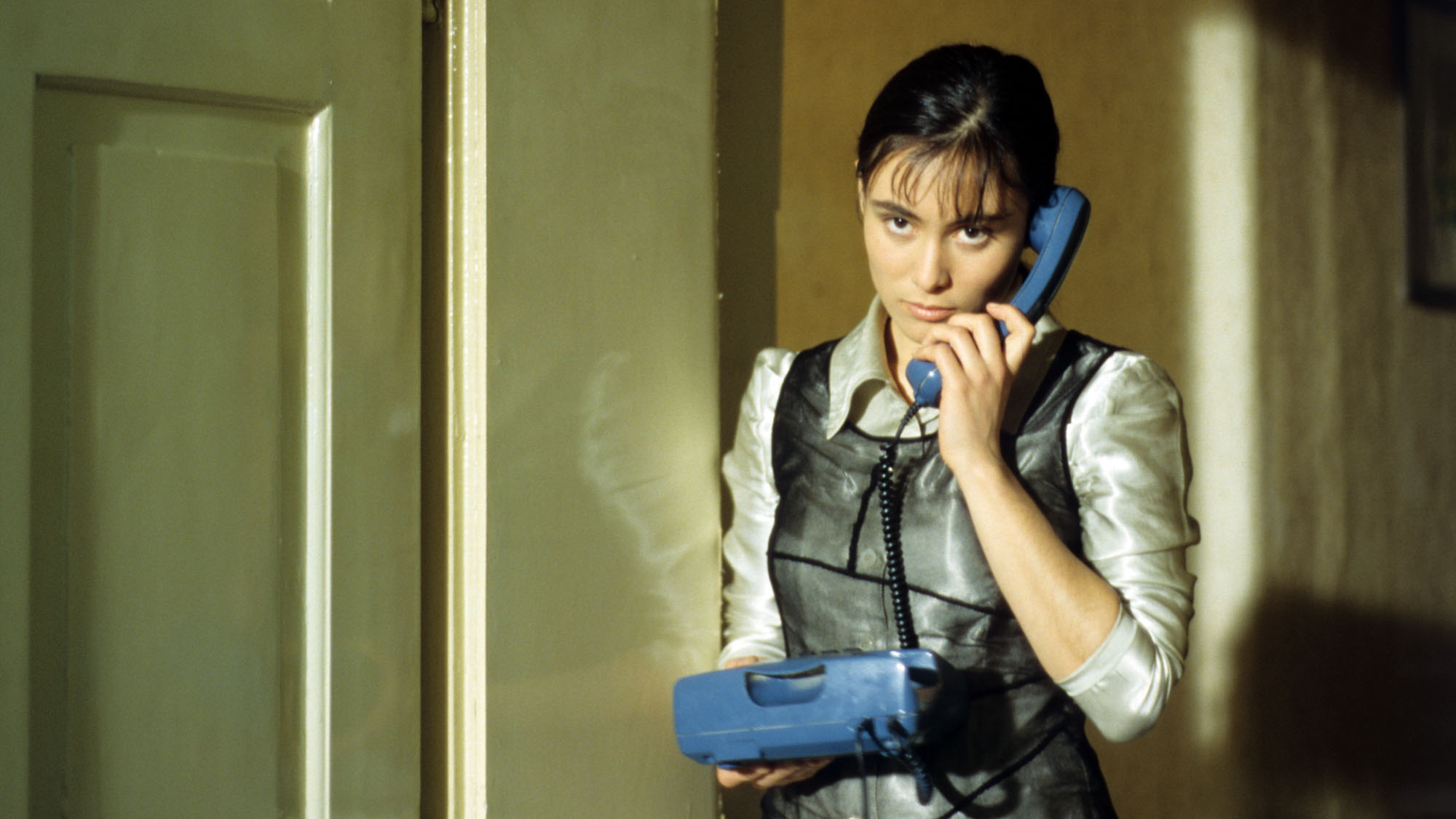 Leyla (Idil Üner), has not left the apartment for half a year due to a xenophobic attack on her best friend
Festivals
New York, Bludenz, Valladolid, Sao Paulo, Wales, Paris, Kairo, Tunis, Taschkent, Long Island, Bogotá, New Delhi, Trivandrum, Asuncion, Vilnius, Lima, Hanoi, Mexico City
46. Internationale Filmfestspiele Berlin, Berlinale (Berlin 1996, Deutschland)
31. International Filmfestival Karlovy Vary 1996 Chechien (Karlovy Vary, Tschechien 1996)
The Hamptons International Filmfestival (East Hampton 1996, New York, USA)
Vive Le Cinéma Francais: "Allemagne: Comédie et histoire" (Paris 1996, Frankreich)
Alpinale (Bludenz 1996, Österreich)
Sao Paulo International Film Festival (Sao Paulo 1996, Brasilien)
4. Oldenburger Filmtage (Oldenburg 1996, Deutschland) 10th Prix Europa (1996)
Cairo International Film Festival (Kairo 1996, Ägypten)
16th International Istanbul Film Festival (Istanbul 1997, Türkei)
16. Uluslararasi Istanbul Film Festivali
The 30th Annual Worldfest-Houston (USA, Texas, Houston 1997) The Houston International Film Festival
25. Festival de Cine de Huesca (Huesca 1997, Spanien)
Bayerische Kulturtage (Krakau 1997, Polen)
Cine Club Del Centro Paraguayo Japonés
9. Festival Cinematografico International de Asunción (1998)
Europäisches Kinofestival (1999)
Kino Pavasaris Filmfestival von Bogotá (Bogotá 1997, Kolumbien)
1997 Long Island Film Festival (Stony Brook 1997, New York, USA)
Journées du Cinéma Européen (Tunis 1997, Frankreich)
Internationales Filmfestival Taschkent (Taschkent 1997, Usbekistan)
Semana Internacional de Cine de Valladolid (Valladolit 1997, Spanien)
Welsh international Film Festival (Wales 1996, UK)
TV-Screenings
ZDF, August 1996
3-SAT March 1997
Availability
DVD - german, with english and french subtitles (shop)
Data
Original Title: Liebe, Leben, Tod (Feature Film 1996)
Runtime: 89 minutes
Format: Super 16, Colour, 35 mm-Blow-up
Written & directed by: Mathias Allary